Lead Your Journey: Decide to be the CEO of your life
By Doug Packard
Do you have a gut feeling that your life could be more fulfilling?
Are you ready to define and achieve your own version of success and happiness?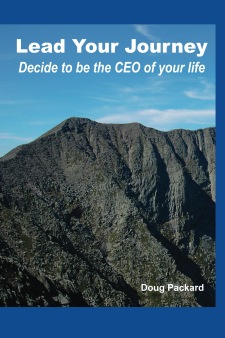 Having led over 600 business leader peer advisory board sessions and over 1400 coaching sessions, the author shares some of the tactics and tools that have helped his clients Lead Their Journey!
If you are ready to promote yourself to "CEO of Your Life"; get this book!
This book covers self-leadership techniques such as how to maximize your R.O.T. (Return on Time), how to define truly clear goals, how to manage your energy and focus, and how to intentionally manage relationships.
Purchase on Amazon.

About the author:
Doug Packard gained over 20 years of leadership and management experience before establishing his consulting practice. He had success in several positions in the information processing industry including Account Manager, District Manager, Domestic Marketing, International Product Management and Strategic Planning. He was involved in multiple industries, worked with businesses of all sizes, and traveled extensively worldwide.
In 2002, Doug opened his practice and dedicated himself to helping top executives and business owners define and achieve their own version of success and happiness. He organizes and leads peer advisory boards, provides individual coaching, and helps leaders increase the effectiveness of their management teams.
Doug is headquartered in Portland, Maine with his wife Mary and enjoys golfing, skiing, traveling and spending time with their three sons.